IPLP Degrees and Courses > JD Certificate
Specialize in Indigenous Peoples Law and Policy
IPLP's JD Certificate prepares students to address the unique challenges facing indigenous communities and to protect and promote indigenous peoples' human rights.
For JD students that preparation includes specialized training in federal Indian law, tribal law and policy, and indigenous peoples' human rights taught by IPLP's renowned faculty. Students also receive practical experience through clinics, externships, and advocacy work with indigenous communities. The IPLP JD Certificate provides the legal foundation necessary to effectively advocate on behalf of indigenous peoples, improve the administration of justice within indigenous communities, and engage in Native nation building efforts.
IPLP JD Certificate Requirements
To view the requirements to obtain the IPLP JD Certificate download the certificate requirements here or contact the certificate advisor Professor Jim Diamond.
Learn more about the wide range of opportunities IPLP offers students specializing in indigenous peoples law and policy by downloading our JD Certificate brochure:
IPLP graduates are developing new legal strategies to advance the rights of indigenous communities around the world and are conducting pioneering research in the field of indigenous rights. They hold important policy-making positions in governments, the UN, and other international organizations. Join the growing movement of legal advocates, scholars, and policy-makers promoting the rights of indigenous communities across the world.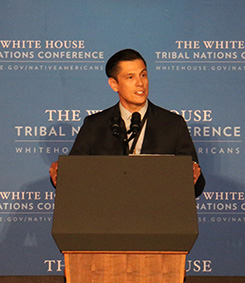 "I am so grateful for my education received through the Indigenous Peoples Law & Policy (IPLP) Program. The professors and the curriculum boldly spoke to the historical and current framework for federal policies, laws, and legal decisions that impact tribes and indigenous peoples. The IPLP's educational philosophy captivated me during law school and continues to inform my personal and professional efforts today."
Anthony Morgan Rodman (JD, '09), Executive Director, White House Council on Native American Affairs