University of Arizona Law Leads Nation in Native Student Enrollment 
Feb. 5, 2019
"No other law school comes close."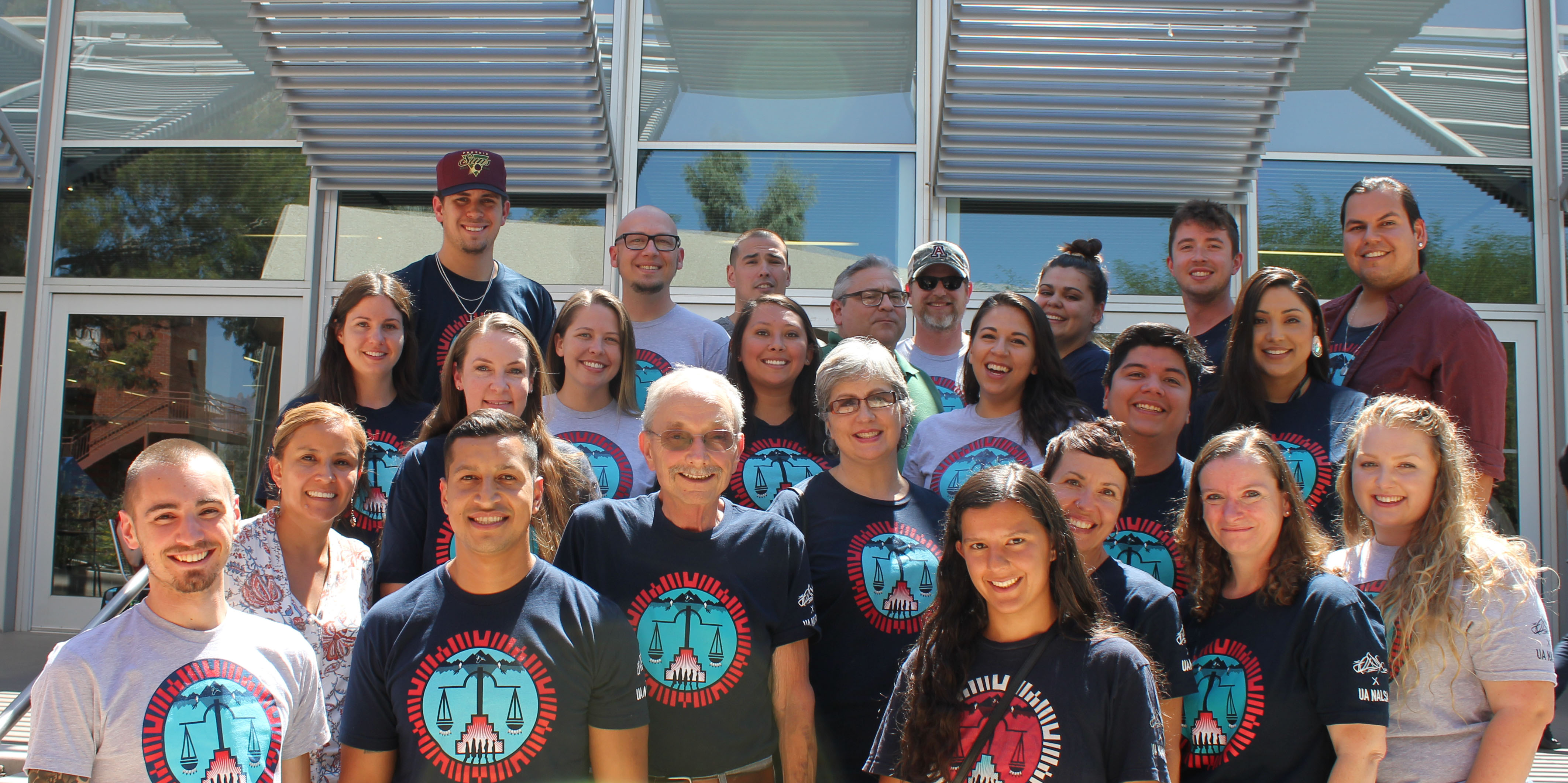 For the second consecutive year, University of Arizona Law leads the nation's top-ranked law schools in enrollment of Native American students. 
As reported in the winter 2019 issue of National Jurist, University of Arizona Law has the largest percentage of Native American students, at 9 percent of the total JD student body.  
"No other law school comes close," wrote the National Jurist in its article on the country's most diverse law schools.
University of Arizona Law is ranked among the top tier of law schools for diversity, with an A- grade in the National Jurist standings.
In addition to having the largest percentage of Native American students, University of Arizona Law has the largest number of Native American JD students among the top 50 ranked law schools in the U.S. News and World Report, according to American Bar Association statistics. 
What's Behind the 
#1 Ranking
Professor Robert A. Williams, Jr., is the faculty co-chair of University of Arizona Law's Indigenous Peoples Law and Policy (IPLP) Program and says those numbers reflect the investment the college and the program have made in student recruitment, retention, curriculum development and mentoring initiatives focused on Native American students.  
As examples that the program is committed to growth, Williams points to the addition of IPLP Program Graduate Advisor and Assistant Professor Akilah Kinnison and IPLP Program Specialist Alisha Morrison, who focuses on student recruitment and success. 
"For me, that number-one ranking among top-ranked law schools was hard earned," Williams says. "It's a reflection of the close-knit, supportive community our students have developed and the remarkable legacy our alumni have built with their achievements. It also reflects the culturally relevant curriculum University of Arizona Law faculty have developed. IPLP attracts leaders who want to develop their skills and go out and change the world."  
A Diverse Native Student Community
Current student Alexis Zendejas (Omaha Tribe of Nebraska) is the president of the Arizona Law chapter of the Native American Law Students Association (NALSA) and says the experiences and opportunities she has been exposed to are unique to Arizona Law. 
"I have been blessed to come to University of Arizona Law," Zendejas says. "What I love most about being here is the family and supportive environment that is fostered here. We all are striving to do our best and lift each other up so we can be a force for good in our communities."  
The newest JD class has students from 10 different Native Nations and indigenous communities, including one Fulbright Scholar, a recipient of the 2018 Emerge New Mexico Emerging Woman of the Year award, and a former Major League Baseball pitcher.  
In addition to JD students, the IPLP Program also brings together a diverse and experienced group of LLM and SJD students. For the most recent incoming LLM/SJD class, IPLP recruited a lawyer formerly in charge of the Rapporteurship on the Rights of Indigenous Peoples at the Inter-American Commission on Human Rights, a dean of Tumaini University Makumira in Tanzania, an extern at the Public Defender's Office at the Pascua Yaqui Tribe, and a MasterCard Foundation Scholar. These new LLM and SJD students come from across the U.S., Canada, Tanzania and Zimbabwe and bring a wealth of experience and academic accomplishments to the law school community. 
Creat
ing a
 Home Away from Home 
NALSA president Alexis Zendejas shares in her own words about why and how she and fellow NALSA students do their best to make law school a welcoming environment, creating a home away from home for fellow students: 
"I was nervous coming to Arizona. I knew no one, my family was 1,300 miles away. But seeing the administration make an effort to recognize its indigenous students has definitely made me feel more comfortable.  
"I appreciate the law school acknowledging the Native American population. All over the law college, Native American artwork hangs on the walls. The IPLP Program professors and staff are a huge support to Native American students. I have had good experiences with professors when I've asked questions about how the class subject applies to Indians.  
"Being a part of a large Native American population in law school has enriched my education and made me feel at home. My Native American colleagues have helped me stay grounded, because we recognize that we are being educated on indigenous lands and that we have strength together. Learning in a community with a large Native American population reminds me that we are in this together. We have similar questions about how certain laws apply to tribal nations and Indians; we have similar experiences and ways of thinking because our backgrounds are different than others.  
"The statistics are stacked against Native Americans when it comes to higher education, but knowing that I have a whole community here at the law school that understands my perspective and are successfully defying the odds with me provides motivation to succeed and excel.  
"The best thing about our Native American community at the law school is that we have become our family away from our families—we help each other to reach our potential and goals so that we, in turn, can give back to our people."