Innovation for Justice: Unlock Change
The civil legal system promises justice for all, but in reality, that promise is not being delivered. Barriers to entry, power imbalances, and flawed processes inhibit the civil legal system from working as it should. Marginalized populations are most likely to be excluded from effective use of the civil legal system. In the midst of this system failure, how can innovation and technology unlock the promise of equal justice?  
The Innovation for Justice program exposes students to the justice gap, engages students in thinking critically about the power of technology and innovation to close that gap, and empowers students to be disruptive problem-solvers in the changing world of legal services. Students will work across disciplines and with government, private and community partners, implementing design thinking and systems thinking to create new models of legal empowerment.
Events & Announcements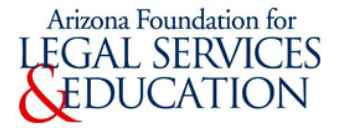 i4J is one of six nominees for the Arizona Bar Foundation's Innovation Awards: https://www.azbf.org/innovation-awards.  Donate by June 7, 2019 to help us earn a matching donation and support our project-based, community-engaged social justice work!
Innovators Welcome
Join us on April 2, 2019, 3:15 p.m. to 5:05 p.m. in Room 21.  Students will share works-in-progress as they tackle the challenge of designing a new tier of legal professional in partnership with Emerge! Center Against Domestic Abuse.
We want your feedback on our work! RSVP to stacybutler@email.arizona.edu
Innovating Legal Services
Panel discussion with Arizona Supreme Court Chief Justice Scott Bales, Arizona State Bar President Jeffrey Willis and Arizona Access to Justice Commission Chair Lawrence F. Winthrop on changes facing the civil legal profession
Jan. 22, 2019, 3-5 p.m.
Click here for CLE materials
The Innovation for Justice Curriculum
The I4J program includes three courses, as well as a variety of extracurricular opportunities for undergraduate and graduate students across campus.
Fall -- Innovation for Justice: Law 672.  This project-based course exposes the ways in which America's civil legal system fails to provide justice for all, explores innovations targeted at addressing that systemic failure, and empowers students to design and launch solutions to the justice gap. Topics include: the constitutional underpinnings of our right to access our legal system; poverty in our community; the civil legal needs of low- and moderate-income Americans; how the design of our legal system inhibits equal access; the access to justice movement; how technological innovations are changing the legal system; and methodologies for innovating and improving the civil legal system. In 2019-2020, the Innovation for Justice program will partner with the University of San Diego (USD) School of Law, the Joan B Kroc School of Peace Studies at USD, Harvard Law's Systemic Justice Project and Duke University School of Law in a multiple jurisdiction, interdisciplinary collaboration examining the complex needs of human trafficking survivors and exploring innovative ways to spark social change.
Spring -- Innovating Legal Services, Law 672A.  The majority of Americans can't afford to hire counsel when confronted with a civil legal need.  As a result, they attempt to navigate the civil legal system without representation, or simply do not engage with the system at all.  What are the societal implications of that system failure, and what can we do to change the status quo?  Each semester, the course will focus on a particular avenue of legal service and explore what's working and what's not, with the goal of generating creative solutions. Guest participants from the community will be invited to work with students in problem identification and solution building.  In Spring 2019, this course will be co-taught by incoming State Bar President Jeffrey Willis. 
Spring -- Visualizing Justice, LAW/ART 360.  This is a 3-credit, interdisciplinary course that combines legal, art and design concepts to explore: (1) what are legal rights; (2) how do we communicate legal rights; (3) how do we navigate legal processes; (4) how can art and design inform how legal rights and legal information are conveyed, in order to empower people and make legal systems more accessible and navigable?  This course is co-taught by associate art professor Kelly Leslie.
I4J in the News
Pima County Says There Is an Eviction Problem, KGUN News, March 2019
Free panel discussion aims to find ways to prevent Tucson evictions,  Arizona Daily Star  March 2019
Re-Thinking Legal Services,  Arizona Attorney, February 2019
Solutions: More affordable housing, right to legal counsel could ease Tucson's eviction problem,  Arizona Daily Star  November 2018
You Think Legal Education Can't Change?  8 Innovative Ideas from Law Schools, Legaltech News, November 2018
University of Arizona James E. Rogers College of Law and Brigham Young University Law School Develop Unique Collaboration, What Great Law Schools Do, November 2018
Is There a Better Way to Battle Evictions?, CityLab / The Atlantic Monthly, August 2018
Tackling Evictions: BYU And UA Law Schools Partner On Legal Research Project, National Law Review, August 2018
UA students to tackle Pima County's eviction woes in new law school course, Arizona Daily Star, August 2018
UA, BYU Partner To Study Housing Evictions And How To Decrease Them, National Public Radio, KJZZ, August 2018
UA College of Law teaming up with BYU to tackle eviction, KGUN 9 News, August 2018
Justice Innovation with Law School Design Labs, American Bar Association Dialogue, June 2018
Who We Are
Stacy Butler, Director
Stacy Butler has two decades of experience in community advocacy and expanding the reach of civil legal services for under-served populations. In 2017, she launched Step Up to Justice, a pro bono civil legal center that delivers free legal services to low-income families in Pima County. Butler created an Access to Justice course at University of Arizona Law in 2017.  She earned a BA from Trinity University and a JD from the University of Arizona. Butler was named one of the Top 50 Pro Bono Attorneys in Arizona by the Arizona Foundation for Legal Services in 2006, 2014 and 2015.  
(520) 621-3002
stacybutler@email.arizona.edu 
@stacyrbutler4
Thanks!
I4J students' project-based, community-engaged learning would not be possible without the generous support of these individuals and organizations who donated their time and talent to our program in Fall 2018:
Bonnie Bazata, Pima County Ending Poverty Now 
Judge Tom Berning, Tucson City Court 
Emily Bregel, Arizona Daily Star 
Jane Carter, Pima County Consolidated Justice Court 
Georges Clement, Just Fix NYC 
Manira Cervantes, Pima County Community Action Agency 
James Daube, Southern Arizona Legal Aid 
Rick DeBruehl, Arizona State Bar 
Randy Downer, Inter-State Investigative Services 
Judy Drickey-Prohow, Law Offices of Scott M. Clark 
Gregg Flatt, MC Properties 
Judge Keith Frankel, Maricopa County Justice Court 
Prof. Christopher Griffin, Arizona Law 
Heather Hiscox, Moves the Needle 
Judge Anna Huberman, Maricopa County Justice Court 
Peggy Hutchison, Primavera Foundation 
Hanna Kaufman, Lawyers Trust Fund of Illinois 
Anne Kurtin, UA Office of Student Engagement 
Courtney LeVinus, Arizona Multihousing Association 
Chris Maglione, Maglione Rentals 
Alex Mastengelo, Habitation Realty 
Sarah Mauet, UA Academic Initiatives and Student Success 
Prof. Brian Mayer, UA Dept. of Sociology 
Judge Ron Newman, Pima County Consolidated Justice Court 
Pima County Public Library, Main Library 
Pima County Mothers in Arizona Moving Ahead 
Pima County Consolidated Justice Court 
Judge Vincent Roberts, Pima County Consolidated Justice Court 
Prof. Christopher Robertson, Arizona Law 
JJ Rico, Arizona Center for Disability Law 
Amanda Rutherford, Step Up to Justice 
Sally Stang, City of Tucson HOusing and Community Development Department 
Cristie Street, Nextrio 
Dan Sullivan, Pima County Sullivan Jackson Center 
Michael Wagenheim, Arizona Law 
Matthew Waterman, Southern Arizona Legal Aid 
Alden Woods, Arizona Republic 
Jay Young, Southwest Fair Housing Council