Health Law and Policy Concentration
Master of Legal Studies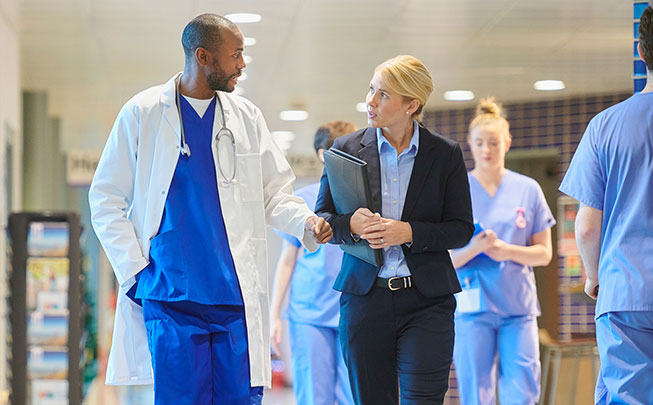 Learn about the Online MLS with a concentration in health law and policy.
University of Arizona Law's Master of Legal Studies (MLS) degree, available fully online or in person, with a Health Law and Policy Concentration addresses a large and growing need for non-lawyers to identify and resolve legal problems that inevitably arise in a highly-regulated health care environment.
Learn legal and ethical concepts in the following areas:
Differentiate between sources of public and private payment for health care services and federal laws that govern health care business practices.
Examine how the U.S. Food and Drug Administration is structured and regulates drugs, biologics, devices and diagnostics, from early discovery and development to bringing medical products to market.
Apply the ethical guidelines and federal regulations to comply with informed consent and conflicts of interest in conducting research with human subject participants.
Describe emerging key technology areas and how they impact drug safety and efficacy to meet the requirements of regulatory agencies in the US and abroad.
Recognize and account for the balance between individual rights and governmental interests (local, state, and federal) in protecting the public's health.
Duration of Degree
The Master of Legal Studies Degree, with a Health Law and Policy Concentration, is a one-year degree program when pursued on a full-time basis, or two or more years when pursued on a part-time basis. The concentration may be completed fully online, or through a mix of in-person and online courses.
This degree requires the completion of approximately 10 courses (five health law courses and five required core legal foundation courses). Online courses are 7.5 weeks in length. They are offered during the fall, spring and summer semesters. 
Application Information
Email the Health Law and Policy if you have questions regarding the health law and policy courses.   Email the MLS Assistant Director if you have application questions.
Required Core Courses – Five courses at three credit units each for a total of 15 units
LAW 501 – Procedure (3 units)
LAW 502A - American Common Law System I, Torts and Contracts (3 units)
LAW 502B - American Common Law System II, Property (3 units)
LAW 504 - American Public Law System with Constitutional Law (3 units)
LAW 507 - Legal Analysis, Writing, and Research (3 units)
Elective Course Requirements – Five courses at three credit units each for a total of 15 units
Health Law and Policy Courses (online)
Spring Session 1 (January – March)
LAW 575A (3 Units) Clinical Research Ethics
LAW 575D (3 Units) Leadership and Equity in the Life Sciences
LAW 579B (3 Units) Legal and Regulatory Fundamentals for Health Care Business
LAW 584A (3 Units) Aging in America
LAW 580 (3 Units) Introduction to Information Privacy
Spring Session 2 (March – May)
LAW 577A (3 Units) Development and Innovation: Biologics, Devices, and Diagnostics
LAW 515 (3 Units) Health Care Ethics
LAW 584B (3 Units) Aging and Social Justice
LAW 580B (3 Units) Data Privacy & Cybersecurity in Healthcare
Summer Session 1 (May – July)
LAW 608A (3 Units) Public Health Law and Ethics
LAW 588A (3 Units) Translational Pathways for Medical Devices
Summer Session 2 (July – August )
LAW 580A (3 Units) Liability and Regulation of Healthcare Professionals
LAW 590A (3 Units) Access to Investigational Products: Clinical Trials, Expanded Access, & Right to Try
Fall Session 1 (August – October)
LAW 576A (3 Units) Drug Discovery, Development, and in the Marketplace
LAW 578A (3 Units) Legal and Regulatory Aspects for Health Care Delivery
LAW 584C (3 Units) Technology and Aging: Legal & Ethical Developments
Fall Session 2 (October - December)
LAW 589A (3 Units) Regulatory Science Case Study Project
LAW 577 (3 Units) Introduction to Biomedical Informatics
LAW 584D (3 Units)  Aging and the Law         
Fall and Spring